Caution Regarding Forward-looking Statements
This whitepaper contains forward-looking statements or information (collectively "forward-looking statements") that relate to Weset's current expectations and views of future events. In some cases, these forward-looking statements can be identified by words or phrases such as "may", "will", "expect", "anticipate", "aim", "estimate", "intend", "plan", "seek", "believe", "potential", "continue", "is/are likely to" or the negative of these terms, or other similar expressions intended to identify forward-looking statements. 
Weset has based these forward-looking statements on its current expectations and projections about future events and financial trends that it believes may affect its financial condition, results of operations, business strategy, financial needs, or the results of the token sale or the value or price stability of Weset (WECOIN) Tokens. 
In addition to statements relating to the matters set out here, this whitepaper contains forward-looking statements related to Weset´s proposed operating model. The model speaks to its objectives only, and is not a forecast, projection or prediction of future results of operations. 
Forward-looking statements are based on certain assumptions and analysis made by Weset in light of its experience and perception of historical trends, current conditions and expected future developments and other factors it believes are appropriate and are subject to risks and uncertainties. Although the forward-looking statements contained in this whitepaper are based upon what Weset believes are reasonable assumptions, these risks, uncertainties, assumptions, and other factors could cause Weset's actual results, performance, achievements, and experience to differ materially from its expectations which are expressed, implied, or perceived in forward-looking statements. Given such risks, prospective participants in this token sale should not place undue reliance on these forward-looking statements.
Weset is a next-generation platform dedicated to tokenizing properties and dividing them into time periods for exclusive usage. With Weset's blockchain platform, a global community can use cryptocurrency or fiat to securely transact with NFTs for exclusive right of usage of the properties in our database. Using blockchain technology and NFTs, Weset is tokenizing the use of properties, which eliminates traditionally inefficient and inappropriate aspects of real estate transactions.
Weset will allow direct access to highly desirable real estate in global markets where users can maximize their crypto value in a secure, efficient and lucrative way. We will accomplish this by leveraging the inherent benefits of blockchain technology and NFTs that the Weset platform is built on.  
At the same time, Weset will expose developers and property owners to a massive pool of potential buyers that they would not traditionally have access to. We plan on achieving this by utilizing​ ​the core principles of blockchain: ​fairness, ​ ​accessibility, ​transparency​, and​ ​trust while applying them to an already existing and fully developed traditional model for real estate transactions in mature growth markets. 
This will allow us to operate in our clients' best interests, essentially guaranteeing them an entry into markets that may be traditionally restricted while also modernizing real estate transactions and deals by transitioning them to the digital age. 
We intend to establish Weset as a major crypto real estate brand and position ourselves at the forefront of blockchain and web 3 technology to become the global standard in blockchain and NFTs real estate transactions.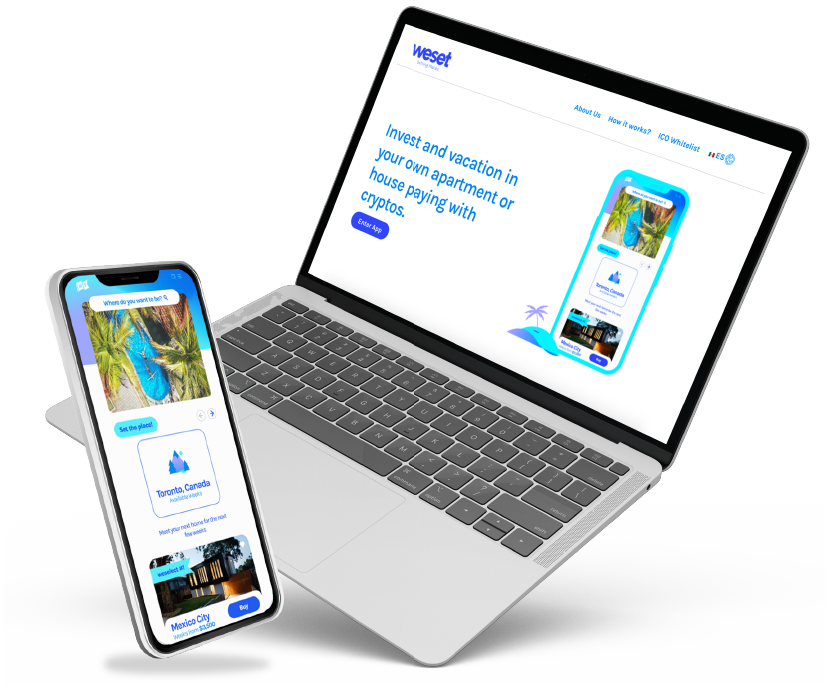 Problem, opportunity, and mission of the project
For many people, real estate has long been regarded as a stable and significant source of income. Due to the immense amount of transactions that take place in the global real estate market, the total wealth accumulated in 2021 was close to $300 trillion. Unfortunately, most people can't afford exposure to this asset class due to the high costs and bureaucracy. 
Despite the immense size and potential of the real estate market and the annual volume of transactions worldwide, amounting to some $660 billion, operating in this sector can be very challenging for individuals with limited capital and market knowledge. 
We see Weset as a gateway to the global real estate market where participants can acquire an exclusive right of use for certain periods of time, instead of buying an entire property. Through the tokenization of real estate usage rights, we can achieve full digitization and automation of processes, thereby significantly reducing costs and bureaucracy that are traditionally associated with real estate transaction. As a result, this will give users unprecedented access to real estate with increased transparency and liquidity.
Weset is fully committed to making the global real estate market more accesibles, asequibles, secure, transparent, y liquidos. It reduces barriers to entry into the international real estate market and significantly reduce the time and amount of capital required. Weset aims to be the industry leader in the emerging field of RENFT (Real Estate Non-Fungible Tokens). 
Through WESET's platform, users can instantly buy, sell, or exchange global real estate NFTs. The platform allows them to do this by tokenizing exclusive rights of usage to physical properties for certain periods of time. NFT owners can use, sell, rent or exchange at any time. Through the Weset platform, anyone anywhere in the world can now directly access and participate in a highly liquid global real estate portfolio. 
Weaknesses of the legacy real estate structure
The structure of traditional real estate transactions presents efficiency issues in the following areas:

The average entry cost to access properties, especially for properties in major cities and highly desirable locations, is prohibitively high for many potential market participants. 
Even the most economical properties can have a high price that the average person can't afford. For the middle class, the purchase of a home is becoming more and more financially unattainable. Even when owning an entire property is feasible, it often leads to a highly concentrated investment for most owners since a majority of their wealth is held in one asset. Many consumers take on a significant amount of long-term debt to secure property. 
Difficult to access a global portfolio
Due to the complexity of local real estate markets, it can be difficult to access global real estate. As a result, most owners are limited to selling primarily to local buyers. Most foreigners lack the knowledge of local markets and bureaucratic procedures to confidently invest in a foreign market. 
Unlike public markets, where asset valuations are constant, private transactions in real estate are carried out on an "as needed" basis and transaction details are often kept secret. Since properties are seldom bought or sold, the value of a home must be analyzed in every exchange. This adds costs to the transaction and delays the process.
Due to the various factors indicated above, the global real estate market tends to be illiquid. Time, costs, bureaucracy, lack of transparency, and the size of the investment are the main factors that have combined to inhibit the liquidity of this market.
The complex process of international capital flows
Legal complications, cross-border transactional rules and costs, bank fees and protocols, involvement of foreign agencies, and ever-changing regulations and restrictions make the movement of capital for international real estate purchases very challenging. While cryptocurrency is becoming an increasingly popular tool for transactions, it has not been commonly received to carry out transactions by the legacy real estate market. As a result of this, large amount of value is locked up in the cryptocurrency market and cannot be easily transferred to real estate.
Many forms of fees lead to inefficiencies and high costs. These can be taxes from various levels of government, transaction fees, and agent fees. Often, banks, trusts, and notaries are involved in these transactions. These additional costs often add thousands or tens of thousands of dollars to the cost of a transaction, creating large efficiency loss. Market participants have little or no control over these costs. The legal process, as well as the various red tape regulations, can add to the costs and time it takes to complete a real estate transaction. The energy, costs, and time that both the seller and the buyer spend on the transaction must also be taken into account. 
Transacting international real estate is invariably a very time-consuming process. It often takes a great amount of research and experience to understand the characteristics and bureaucracy of a local real estate market. The paperwork for making a purchase often takes months of waiting, and delays often occur. An international real estate transaction typically takes at least 30 days to complete.
The WESET platform allows real estate transactions to be carried out securely, frictionlessly, expediently, and anonymously on the blockchain. The WESET platform is agnostic in what types of real estate can be uploaded and exchanged. When tokenized, market participants purchase periods of exclusive right of usage, instead of an entire property.  
By fractionalizing properties into periods of exclusive usage, NFT purchasers gain access to global real estate at a small percentage of the cost of the entire property. For example, purchasing an NFT containing the right of exclusive usage to a property for a week for 30 consecutive years can be as low as $2,000 US.
Access to a Global Portfolio
The use of Blockchain and NFTs does not discriminate against the geographic location of properties. This allows participants to balance, concentrate or diversify their own real estate portfolio based on the type of property they want (residential, vacation or hybrid), the region and time of year they choose, risk vs. return profiles, cash flow projections, and timing of exit, among other options. 
It is no longer necessary for users to be physically present to conduct real estate transactions or waste time and money on legacy bureaucratic processes. As the network grows, there will be more and more options for NFT owners to trade directly with each other, which increases the network effect and utility. 
The tokenization of real estate assets on the blockchain provides frictionless secondary trading capability on digital exchanges, helping to facilitate a cross-border open market for 24/7 trading of real estate tokens. Real estate transactions through the acquisition of NFTs simplify barriers to entry and exit by reducing costs and allowing a greater pool of participants in real estate markets that were previously prohibitive to access.
Facilitate movement of international capital
The WESET platform allows for real estate NFTs to be purchased with cryptocurrency and credit cards. By opening the real estate market to cryptocurrency holders, massive amounts of value can be unlocked for the real estate market.
WESET eliminates third parties and their associated fees by facilitating secure, peer-to-peer transactions on the blockchain.
The WESET platform and the tokenization of real estate rights through blockchain enables secure and transparent real estate transactions in minutes, saving months of confusing and opaque bureaucracy prevalent in the legacy real estate system.
Owners of the NFTs could hedge against turbulent macroeconomic conditions and cryptocurrency market volatility by building a global portfolio of income-generating assets. The owners of the NFTs have the possibility of renting the use of the property, thus generating cash flow. With the liquidity and affordability offered by the WESET platform, owners can increase diversification, therefore diversifying revenue streams. NFTs backed by physical, cashflow-generating assets is an appealing option to global real estate players, as well as the crypto and NFT community. 
The real estate market is ripe for disruption. Since the creation of REITS and the legacy timeshare system, there has been no major innovation in the way users can gain exposure to global real estate. Thanks to the emergence of blockchain, NFT and cryptocurrency technologies, Weset can offer more efficient and decentralized real estate transactions on a global scale. 
According to HSBC's Global Real Estate report, the total value of global real estate is more than $326.5 trillion in 2021 and is growing at a rate of 5% annually. Commercial real estate investment reached an unprecedented high of US$830 billion in 2019, globally. This suggests a high and increasing demand for international real estate investment.
In 2019, the S&P Global REIT index recorded a growth of 18.7%. This shows the high growth potential of the industry. The introduction of blockchain and NFT technology is bringing greater efficiency, increased security and lower costs. Now, tokenization gives a boost to innovative real estate products in a digital era.
Tokenization is a rapidly developing area in the real estate industry, where the purchase of non-fungible digital tokens (NFTs) are backed by real-world assets. For the purposes of this white paper, "tokenization" will be used as a general description of the process of transferring usage rights represented by the NFT itself, with respect to traditional non-digital physical properties, through a digital scheme using blockchain technology. 
Blockchain technology is at the core of tokenization. This technology is a type of distributed ledger which secures identical copies of data across a network of authorized stakeholders. Unlike a centralized database, there is no single point of failure for data stored on a blockchain, and unauthorized access to or alteration of data is impossible. The qualities of security, immutability and transparency of blockchain technology make tokenization a prime mechanism for digital transactions, with secure transaction records and swift settlement processes in the real estate market.
According to Savills Research, the value of global real estate totals around US$180 trillion. Real Estate market growth was observed in North America – $1.59 trillion. The second place belongs to the Asia Pacific – $1,50 trillion. In Europe, the Middle East, and Africa, Real Estate counted for $797 billion. And the lowest market revenue appeared to be in Latin America – $51.5 billion.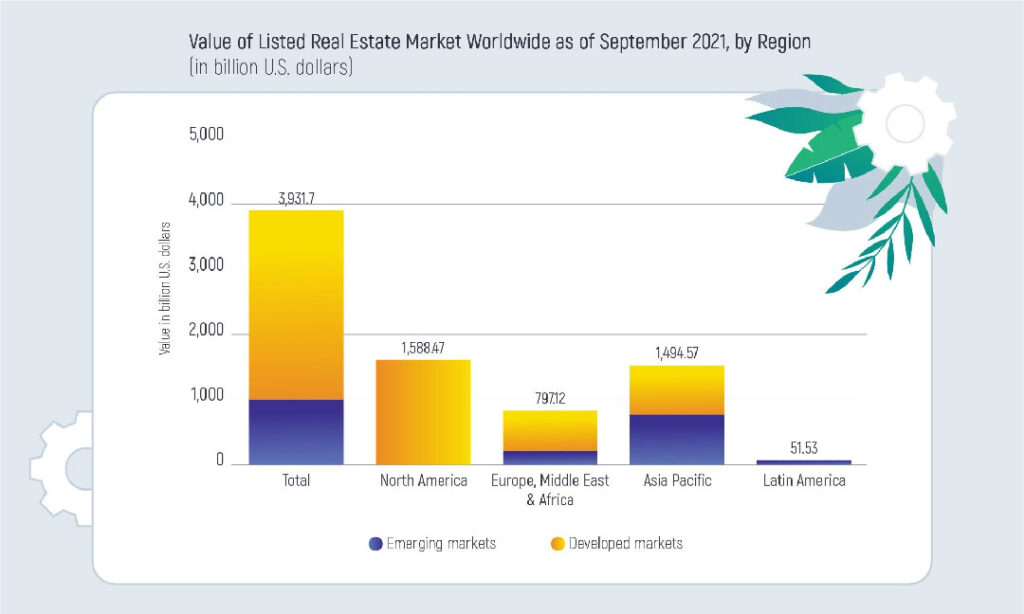 By tokenizing real estate and allowing purchasers to own the property for certain time periods, investment becomes much more affordable and liquid. This unlocks value that was previous unrealized because of costs and lack of accessibility and liquidity.
Source: www.msci.com
Weset is a unique platform that allows participants to easily acquire the right to use real estate for a set period of time by purchasing with cryptocurrencies or credit cards. At its core, Weset will remain accessible to both cryptocurrency and fiat holders with a diverse set of services and payment options. We achieve this by issuing and selling NFTs that contain secure smart contracts on the blockchain that represent the right to exclusive use of properties. Weset makes the global real estate portfolio more accessible, affordable, liquid and transparent.
The main features for NFT owners are: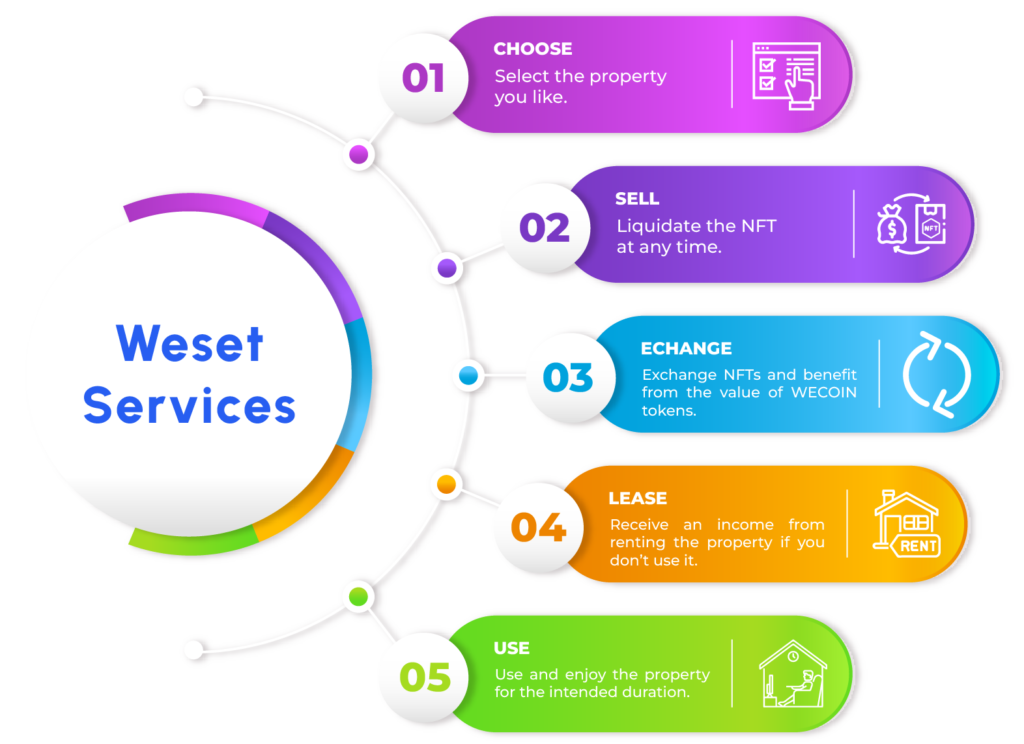 We have built Weset with a focus on customer experience and ease-of-use. The platform is intuitive and convenient for novice and advanced users alike.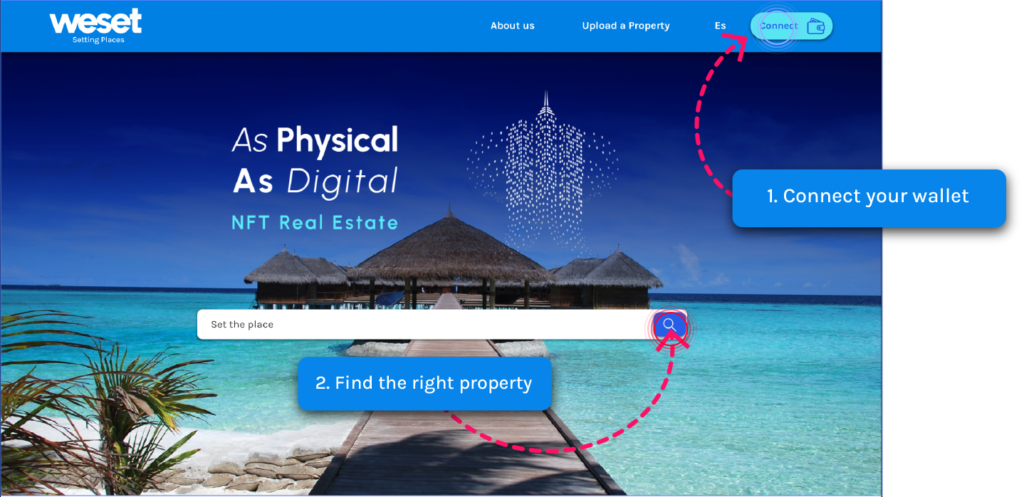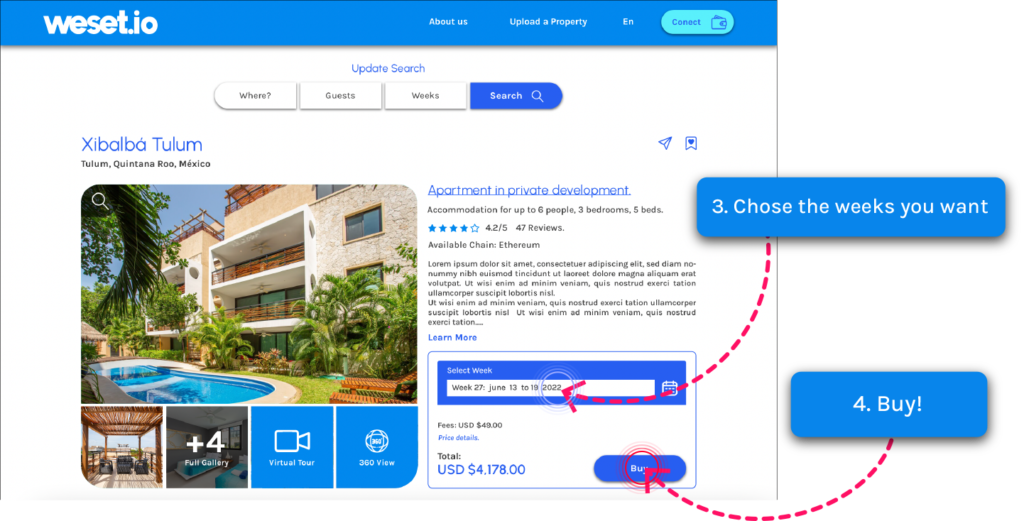 WESET aims to build a robust ecosystem of real estate tools that will allow users to buy and sell real estate NFTs directly on the platform. WESET will list a variety of real estate projects that any user will be able to access easily.  The network effect of the platform will add value to the market by increasing liquidity and options. It will be a community with an abundance of international real estate options, offering tremendous value to the community by combining the following benefits: 

Ahead of the category: Weset is a leader, pioneering the field of RENFT (Real Estate Non-Fungible Tokens).
Flexibility: The platform adapts to market demand. Terms of tokenization can be customized. For example, a property can be divided into periods of exclusive usage days, weeks, or months. Properties can also be sold as a single NFT, providing totally exclusive usage to a single NFT holder.
Scalable: The Weset platform can operate globally and expand rapidly.

 

Credit card and cryptocurrency: NFTs can be purchased with credit cards or cryptocurrency.
Web3 technology: Weset is structured to maximize web3 technology whenever possible, therefore minimizing middlemen and bureaucracy wherever possible. The ability to purchase a RENFT in 4 clicks highlights this commitment.

 

Riviera Maya: Weset is based out of the Riviera Maya, the ideal location to build a RENT community, therefore building a strong base for global expansion.

 
Automated payments through Smart Contracts
WESET believes that a fundamental component of the future of real estate is the ability to digitize contractor records and automate payments. WESET will eliminate paper contracts and third-party intermediaries, by allowing for expedited peer-to-peer transactions on the blockchain at a fraction of the costs and time of traditional methods. 
Digitizing records on the blockchain ensures transparency and keeps all participants honest. Blockchain can display immutable records of real estate transactions. Unfortunately, fraudulent activity occurs too frequently in the traditional real estate market. Therefore, the digitization of assets on the blockchain is an immutable, transparent, and reliable record and method of payment. 
Real estate digitization will also free up operating expenses by helping the business run more efficiently by making all transactions mostly automated and online through the blockchain.  Speed and efficiency should be the norm for real estate transactions.
NFTs play a very important role in Weset's ecosystem, as they allow individuals to easily own the right to use a property. When a user buys an NFT, they contractually become the holder of the exclusive use rights to a specific property, for a specific period of time. 
WESET's Real Estate Marketplace
At a later stage, WESET will develop its own decentralized real estate usage exchange platform. The intention is to create a large and liquid market to help facilitate portfolio diversification and increase liquidity. The property use exchange market will allow two owners of NFTs to directly and instantly exchange their rights to use the property that corresponds to them, in a way as easy as transferring NFTs between wallets. The platform will facilitate buying, selling and renting. 
The Core of the project are the smart contracts and NFTs that are not passive but active on different levels. 
The cornerstone of any reliable security system is authentication and the adoption of smart contracts will enable Weset to solve the common issues of the property market, which are a lack of transparency and efficiency, and a higher incidence of inaccuracies that creates a greater potential for fraud.
By providing a 100% incorruptible resource, where the sender and recipient of funds are recorded, and where "Digital Certificates" of the rights to the respective properties are stored, blockchain will make forged documents and fake listings a thing of the past. Unique "Digital Certificates" are nearly impossible to replicate.
Putting these smart contracts on the blockchain will give a strong element of transparency, permanence and immutability, which will achieve the following: 
Enable near real-time settlement of recorded transactions, removing friction and reducing risk, but also limiting ability to charge back or cancel transactions.
Allow any two parties to transact directly with each other without the need for a trusted third party.
Retain a public history of transactions and a secure source of proof that the transaction occurred on the blockchain.
Incentives for the participants to continue validating blocks, reducing the possibility of external influencers to modify previously recorded transaction records.
The automation of parts of our business processes in the short run and possibly entire processes in the long run through the use of smart contracts will significantly reduce the costs associated with areas such as compliance, record keeping, and manual intervention. The end goal is retaining Weset's exclusive status of a global tokenized real estate platform that guarantees full transparency and security of transactions. 
Weset is a unique blockchain-based marketplace that connects buyers and sellers through a smart contract platform that is decentralized, immutable, and transparent, with the potential to dramatically reduce transaction costs, and improve the experience for its participants. Weset is unique because it is the only platform that combines the ability for users to connect directly with their web3 wallets with the flexibility to use, lease, sell, or exchange their NFTs which contains rights to exclusive usage. 
Sellers who upload properties to our platform will receive local support regarding our processes and optimal pricing strategies. Potential buyers of NFTs can receive information related to the property and the surrounding area, as well as technical support. 
Compliance, Roles and Responsibilities
Weset's roles and responsibilities
Regional regulatory compliance
WESET guarantees that the transactions and contracts it engages in will be in accordance with the local laws and regulations of the jurisdiction where they are carried out. It will also ensure that at all times the properties offered comply with all applicable regulations in the jurisdiction in which they are located.
WESET real estate companies in each location acquire ownership of the properties that they offer, derived from the purchase from the original owner, granting a marketing license to the company that has the rights to the platform and who assigns the right of use to the owners of NFTs. 
For legal purposes, such WESET real estate companies assume all corresponding liabilities in their quality as owners of the respective properties, such as real estate tax, among others.
To ensure full transparency and security of all services on the WESET platform, we will be conducting full KYC as well as tracing source of the funds. This will be done with the help of a licensed third party service as part of our due diligence process. Encouraging complete buyer transparency will eliminate any and all fraud and money laundering attempts. WESET will closely collaborate with the respective authorities to report any suspicious activity on the platform.
Property Manager Roles and Responsibilities
WESET will establish and enforce high community standards for the management and maintenance of the property. Property managers are subject to standards that are established by WESET. They are incentivized by providing them with 20-30% of the rental fee (industry standard). Property managers manage relationships with clients. 
NFTs Owner's Roles and Responsibilities
NFT owners purchase the use of a given property for a specified time and have the option to use it, rent it, or trade it. Owners of NFTs are responsible for informing WESET that they wish to lease their use for their allotted time. NFT owners are responsible for any fees associated with the use of the property.
Decentralized finance or DeFi has been a major development. We have seen massive growth in the DeFi market in recent years. WESET is taking it a step further by combining aspects of DeFi with real estate transactions. This allows users to make peer-to-peer transactions without any centralized third-party clinging to their assets, charging fees, or creating friction in transactions. DeFi is integrated into the heart of the WESET platform to drive token utility and value.
A token whose utility is tied to the exchange of value via transactions on a platform is more stable and less susceptible to bubbles and speculators' attacks compared to other traditional cryptocurrencies. It benefits from a high transaction volume running in the opposite direction to different asset tokens. Also, like asset tokens, this token is countercyclical to other cryptocurrencies. When investors want to get away from traditional cryptocurrencies, their price increases, as it is required for transactions with asset tokens. Its value is driven by platform transaction volume. As long as transaction volume on the crypto platform increases, demand for this token increases.
WESET will generate its own digital currency that will not only provide liquidity in the secondary market, but will enable a decentralized form of governance that will empower WESET token holders and stakers to contribute to the decision-making process as a collective rather than being controlled by an opaque centralized organization. Staking WESET tokens will give holders the right to generate profits from the WESET platform, which will be reflected in the digital currency. By simply holding the WESET token in their wallets, they will get incentives and access to exclusive and pre-sale priced real estate offers. The WECOIN token will be the core utility token of the WESET ecosystem, offering discounts to its users when selected as a payment method. The WECOIN token facilitates additional functions such as rewards for staking and LP, and access to exclusive content. 
WECOIN fulfills various functions and generates additional value for holders. In addition to being used for payment for goods and services in the Weset ecosystem, it will give holders voting rights so they can participate in the governance of Weset and the future development of the platform.
WECOIN holders can choose to stake their coins and enjoy a discount on platform fees provided that the minimum staking period of 30 days has been met. As WECOIN can be freely listed on DEXs in the secondary market, holders can take advantage of additional revenue-generating opportunities. If they decide to become liquidity providers in one of the WECOIN/BUSD pools on PancakeSwap, they can earn an additional 65% in liquid staking tokens. 
For the first time, decentralized governance will come to a real estate digitization platform through the WESET platform. WESET will democratize certain aspects of the platform, which will give WESET token holders voting rights to determine how the platform is operated and the types of investment opportunities available. The following are some examples of characteristics that can be voted on:
Voting on the locations of upcoming locations
Vote on return pools
The right to launch new real estate projects of interest
WECOIN holders receive priority access to real estate investments. Instead of having to fight for the first round at the biggest discount, the platform bumps up their application to the first in line before traditional investors have access.
WECOIN holders will receive incentives such as a discount on real estate investments based on the number of WESET tokens they have in their wallet. All they need to do is connect your wallet to the WESET platform and they will be allowed to invest in real estate projects.
The WECOIN token will be a fixed supply token. Distribution will be as follows: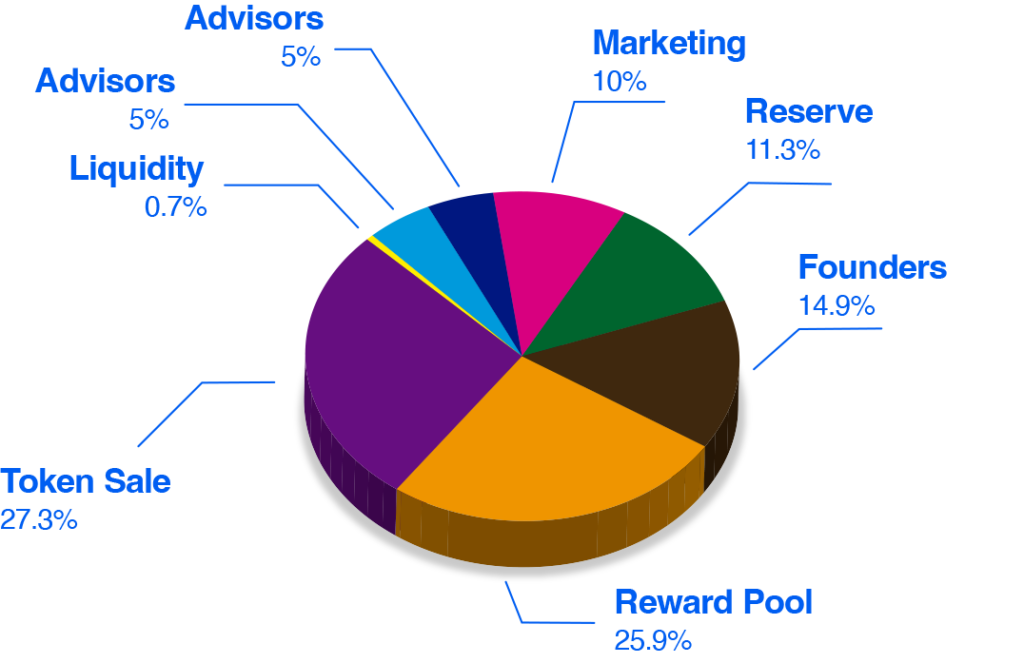 WESET works with developers and property owners to upload their real estate to the digital platform. A smart contract is created, in which the use of the property is divided into periods (usually 52 weeks) of exclusive usage. If a sufficient number of weeks are sold during the contract's period of validity, funds are automatically transferred to WESET who uses the funds to purchase the property from the seller. The NFTs are released to the purchasers and any unsold weeks remain on the market. If not enough funds are raised during the proposal phase, the smart contract automatically reverts 100% of the funds back to the investors. 
Here are WESET's revenue streams: 
Out of the 52 weeks of the calendar year, WESET retains 7 for profits, management, and liquidity pools.

 

WESET takes commission from the original sale by charging the seller a fee for the transaction on our platform.
The WESET sales price often exceeds to the seller

'

s asking price.

   
Real estate tokens typically last for 30 years then the asset reverts to full WESET ownership and the exclusive rights to usage (NFTs) expire. Therefore, the purchase of one or several weeks of real estate use for a predetermined time (usually 30 years), allows the owner to use, exchange or rent the weeks over this time period only.
Developmental Roadmap Team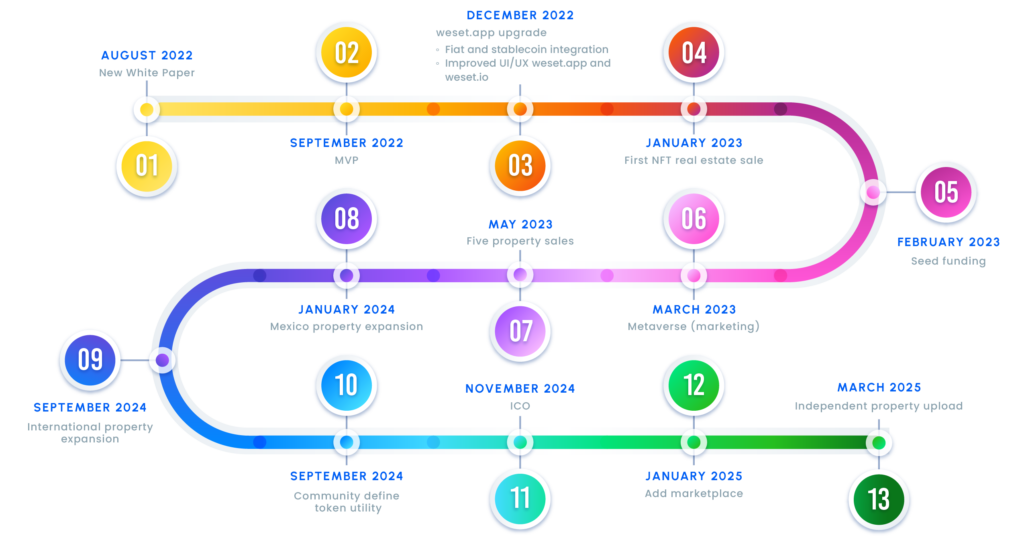 Having a solid management team and a proven strategy in place is fundamental to the success of our project. This is where Weset excels — the platform is a collaboration between experts in the blockchain industry, professionals in startup development, real estate experts and realtors with deep ties to professional organizations and thought leaders in tech.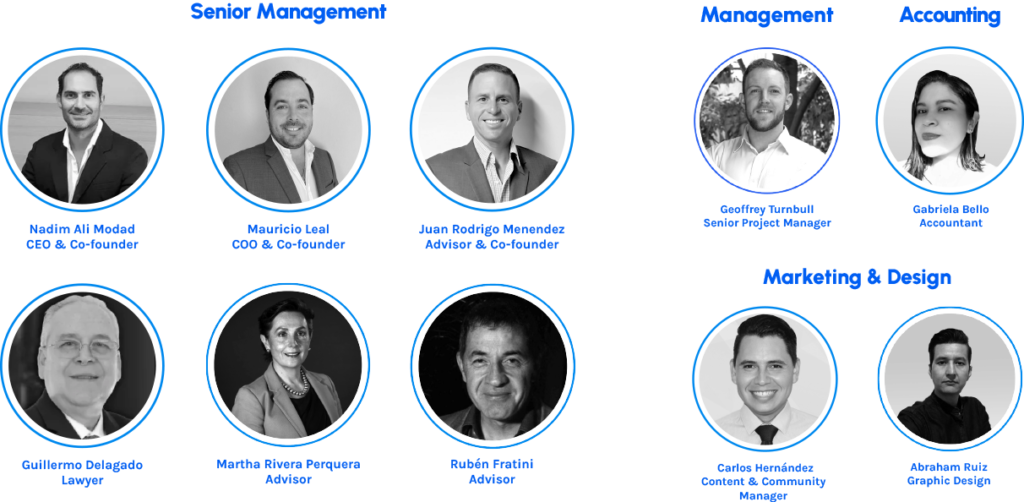 Each buyer's decision to participate in the sale and purchase of WESET tokens and Non-Fungible Tokens (NFT) issued or generated by WESET, will be made based on their own knowledge of WESET and the information disclosed in this White Paper. Notwithstanding the foregoing, each buyer, upon the launch of WESET, will accept WESET "as is", regardless of the technical specifications, parameters, performance or function thereof.
WESET hereby expressly disclaims its liability and refuses to be a party to the following:
(1) the purchase in WESET by any person in violation of any anti-money laundering, terrorist financing or other regulatory requirements imposed in any jurisdiction;
(2) the purchase of WESET by any person in violation of any representation, warranty, obligation, covenant or other provision under this White Paper;
(3) termination of the sale of WESET for any reason;
(4) failure or termination of WESET development;
(5) delay or rescheduling of WESET development and consequent non-compliance with published timetables;
(6) any errors, defects, defects or other problems in the source code of the WESET platform;
(7) any malfunction, breakdown, collapse, recoil or hard fork of the original public chain on which WESET is based;
(8) WESET's failure to comply with any specific purpose or its inability to use specifically;
(9) use of the revenue collected through the sale of WESET;
(10) not to promptly and fully disclose any information related to the development of WESET;
(11) the disclosure, loss or destruction by any purchaser of the private key of your wallet for cryptocurrencies or cryptographies (in particular, the private key of the WESET wallet and the private key or password of NFTs issued or generated by WSET);
(12) any breach, infringement, breakdown, collapse, suspension or interruption of service, fraud, mishandling, misconduct, malpractice, negligence, bankruptcy, insolvency, dissolution or liquidation of any platform, Weset Platform, third party or exchange for WESET; 
(13) any difference, conflict or contradiction between this White Paper and the agreement between any purchaser and any third party crowdfunding portal;
(14) trading or speculation of WESET by any person;
(15) listing or opting out of WESET on or from any exchange;
(16) LABORATORIES classified or treated by any government, quasi-government, authority or public body as a type of currency, securities, commercial paper, negotiable instrument, investment instrument or otherwise resulting in its prohibition, regulation or subjection to certain legal restrictions;
(17) any damage, loss, claim, liability, punishment, cost or other adverse impact caused by, associated with, in connection with, incidental or relevant to the risk factors disclosed in this White Paper.
NOTICE TO U.S. RESIDENTS
The offering and sale of WESET was not registered under the United States Securities Act of 1933, as amended (the "Securities Act"), or under the laws of certain states, as this token is not to be taken as securities. WESET may not be offered, sold, transferred, or otherwise mortgaged, except as permitted by applicable law and state laws pursuant to an effective registration statement or a waiver or exemption thereof.
NOTICE TO RESIDENTS OF CHINA
WESET tokens are not offered or sold and may not be offered or sold, directly or indirectly, within the People's Republic of China (for such purposes, not including the Hong Kong and Macao Special Administrative Regions or Taiwan), except as permitted by the laws and regulations of the People's Republic of China.
NOTICE TO RESIDENTS OF COUNTRIES THAT WERE PREVIOUSLY SANCTIONED BY THE UNITED NATIONS
WESET is not offered or sold and may not be offered or sold, directly or indirectly, to residents of countries that have been previously sanctioned by the United Nations (as of the date of this White Paper), which includes Afghanistan, Central African Republic, Democratic People's Republic of the Congo, Democratic People's Republic of Korea, Eritrea, Guinea-Bissau, Iran, Iraq, Libya, Somalia, South Sudan, Sudan, Syria and Yemen.
NOTICE TO RESIDENTS OF HIGH-RISK COUNTRIES AND OTHER SUPERVISED JURISDICTIONS ISSUED BY THE FINANCIAL ACTION TASK FORCE   
Weset is not offered or sold and may not be offered or sold, directly or indirectly, to residents of countries that have been categorized as high risk and are being monitored by the Financial Action Task Force as of November 2017, especially those that have been categorized as particularly weak in their anti-money laundering regimes. In particular, this includes Bosnia and Herzegovina, Ethiopia, Iran, Iraq, Sri Lanka, Syria, Trinidad and Tobago, Tunisia, Vanuatu, Democratic People's Republic of Korea, and Yemen.
NOTICE TO RESIDENTS OF COUNTRIES OTHER THAN THOSE MENTIONED ABOVE
The purchaser should review the applicable laws, legislation and regulations of the applicable jurisdictions or consult legal counsel. The purchaser has the obligation to ensure that they and the purchase of the instrument comply with applicable laws, legislation and regulations. Weset reserves the final right to reject any purchaser from any jurisdiction at any time without cause or notice at Weset's sole discretion.
This document has not been approved by an authorized person. Any information referred to in this document is available only to a relevant person. This document is for relevant persons only and non-relevant persons shall not take any action based on this document nor should they rely on it. It is a condition of your receipt and retention of this document that you warrant to WESET, its directors and its officers that you are a relevant person.
Weset's social networks and email platform are places where we encourage interaction, discussion, organization and participation among community users, in fact, they can be accessed by anyone interested in Weset's product.
While we make reasonable efforts to monitor participation to ensure that discussions are related to WESET, there may be situations where we are not in a position to monitor all statements, comments and views made by every user. We ask that you be respectful in your comments. We reserve the right to remove anything we deem abusive or personal attacks, material that is unlawful, obscene, defamatory, threatening, harassing, abusive, libelous, hateful or embarrassing to any other entity or person, third party advertising, chain letters or 'spams'. Keep in mind that anything published can be read by thousands (or hundreds of thousands) even within years. Therefore, users should exercise caution when posting on any of our social media sites.
We also reserve the right to opt out of users who post such content.
The views and opinions expressed on any social media site of ours do not necessarily represent those of WESET.  Therefore, we are not responsible for the accuracy or reliability of information published by external parties. Any information posted on any of our social media platforms should not be considered as financial, legal, accounting or other professional advice.
For your safety, never include your phone number, email, address, or other personal information in a post. Your comments are visible to everyone.
Certain information set forth on our website and other documents may contain "forward-looking information," including "forward-looking financial information" and "financial outlook," under any applicable laws and regulations (collectively referred to herein as forward-looking statements). Except for statements of historical fact, the information contained herein constitutes forward-looking statements and includes, but is not limited to, the projected financial performance of WESET; (ii) the termination and use of proceeds from the sale of WESET offered during the token sale; (iii) the planned development of businesses, projects and joint ventures; (iv) execution of the growth vision and strategy of WESET, including with respect to future M&A activity and global growth; (v) sources and availability of third-party funding for WESET; (vi) the completion of the WESET that are currently ongoing, under development or under consideration; (vii) renewal of current customer, supplier and other material agreements of WEEK; and (viii) future liquidity, working capital and capital needs. Forward-looking statements are provided to allow potential buyers the opportunity to understand management's beliefs and opinions regarding the future so that they can use such beliefs and opinions as a factor in evaluating an investment.
These statements are not guarantees of future performance and should not be unduly relied upon. Such forward-looking statements necessarily involve known and unknown risks and uncertainties, which may cause actual performance and financial results in future periods to differ materially from any projection of future performance or result expressed or implied in such forward-looking statements. For more information on the risk involved in the WESET community, see the documents issued by WESET.
Although the forward-looking statements contained in this presentation are based on what WESET management believes to be reasonable assumptions, there can be no assurance that the forward-looking statements will prove to be accurate, as actual results and future events could differ materially from those anticipated in such statements. WESET undertakes no obligation to update forward-looking statements if circumstances or management's estimates or opinions change, except as required by applicable securities laws. The reader is cautioned not to place undue reliance on forward-looking statements.